Subscribe

to SwiftERM Predictive personalisation software for ecommerce Successful ecommerce strategy for 2023

With 2023 right around the corner, it's time to start thinking about your ecommerce strategy for next year. It's important to consider the economic climate while also planning for the continued growth in ecommerce. Total ecommerce sales expected to reach $1.065 trillion by 2023 There are several factors to consider when planning your ecommerce strategy, and they revolve around...

With 2023 right around the corner, it's time to start thinking about your ecommerce strategy for next year. It's important to consider the economic climate while also planning for the continued growth in ecommerce. Total ecommerce sales expected to reach $1.065 trillion by 2023

There are several factors to consider when planning your ecommerce strategy, and they revolve around 5 key pillars that are essential for success in 2023:
A focus on the customer experience
Personalisation
Automation
Mobile-first design
Omnichannel approach
A Focus On The Customer Experience
Taking a closer look at these pillars, the first one is a focus on the customer experience. In order to be successful in 2023, you need to make sure that your customers have a positive experience when they interact with your brand. This means providing them with a seamless and convenient shopping experience from start to finish.
One way to do this is by offering a variety of channels for them to shop on, such as a website, mobile app, and brick-and-mortar store. This way, they can choose the channel that is most convenient for them at any given moment. Another way to improve the customer experience is by offering fast and free shipping, as well as easy returns.
People are increasingly expecting brands to offer these features, and if you can't provide them, you run the risk of losing customers to your competitors. In addition, it's important to make sure that your customer service is top-notch. This means having a team of friendly and helpful customer service representatives who are available to help your customers with any issues they may have.
Personalisation
The second pillar of a successful ecommerce strategy is personalisation. In order to stand out in a crowded market, you need to make sure that your brand is personalising the shopping communication experience for your customers. This can be done in a number of ways, but by far the most success is achieved through predictive personalisation software (PPS).

PPS recommends products based on each individual and unique customer's past purchase history and impressions to cultivate ever greater average order value, a hike in customer lifetime value and naturally the eternal loyalty.
Maximise the return with personalised emails using predictive product selection
Current reports estimate that the average cart abandonment rate for ecommerce stores is up to 79%. While there can be several reasons why a user chooses to abandon a cart — from losing interest in the products or even simply forgetting to check out — it doesn't hurt to remind them of what they'd been about purchase. 
It has often been demonstrated that email is by far the lost lucrative medium for go-to marketing solution. But in the last few years just how powerful this is escalates many fold, the acknowledged leading solution is personalised product selection software, which uses predictive analytics to deliver both a phenomenal return on investment.
Automation
The third pillar of a successful ecommerce strategy is automation. In order to scale your business and reach new levels of growth, you need to automate as much of your operations as possible. This includes things like your order fulfillment process, customer service, and marketing.
By automating these processes, you'll be able to free up time and resources that can be better used elsewhere. In addition, automation can also help you improve the accuracy and efficiency of your operations. For example, if you're using an automated fulfillment system, you can be sure that your orders will be processed and shipped out on time every time.
PPS is 100% autonomous software, literally meaning that no human is ever involved with it throughout your lifetime. the means zero staff overheads, which delivers a phenomenal ROI, that traditional email marketing and omni-channel marketing combined can't come near.

Leading research houses McKinsey, Forrester, Bain and Statista all agree an average 20x greater return is achieved by its immediate adoption. (Not 20%)
Mobile-First Design
The fourth pillar of a successful ecommerce strategy is a mobile-first design. In today's digital age, more and more people are using their smartphones to shop online. This means that if you want to be successful in 2023, you need to make sure that your website or mobile app is designed with a mobile-first approach.
This means creating a design that is optimized for smaller screens and touchscreens. In addition, it's important to make sure that your website or mobile app loads quickly and efficiently on all devices. If it doesn't, you run the risk of losing customers to your competitors.
It's also important to note that mobile-first design isn't just about creating a responsive website. It's also about making sure that your overall ecommerce strategy is designed with mobile in mind. This includes things like making sure that your checkout process is mobile-friendly and that you're offering mobile-specific discounts and offers.
Omnichannel Approach
The fifth and final pillar of a successful ecommerce strategy for 2023 is an omnichannel approach. In order to reach and engage with your customers on all channels, you need to have a strong omnichannel presence. This means having a consistent brand identity and message across all channels, including your website, mobile app, social media, and more.
It's also important to make sure that your omnichannel strategy is integrated with your other ecommerce systems. For example, your inventory should be synced across all channels so that customers can purchase items regardless of where they are shopping. In addition, your customer data should be shared across all channels so that you can provide a personalised experience to every customer.
By following these five pillars, you can be sure that your ecommerce business will be successful in 2023 and beyond. If you want to stay ahead of the competition, it's important to start implementing these strategies as soon as possible.
Choosing high calibre database management software
A database management system (DBMS) commonly refers to a tool that is responsible for the creation and management of data. It also allows users to retrieve or update data at a moment's notice. A company, however, should choose database management software as per its specific needs and requirements. With the help of database management software...
A database management system (DBMS) commonly refers to a tool that is responsible for the creation and management of data. It also allows users to retrieve or update data at a moment's notice. A company, however, should choose database management software as per its specific needs and requirements.
With the help of database management software – a company can instantly update, create, define, or send queries to an administrative database. Furthermore, this facilitation can be transformative for companies that want to capitalise on various data formats and their retrieval methods.
This article outlines DBMS of exceptional quality to help ecommerce marketers find the one that suits your technical and business objectives.
What Is Database Management Software?
Technically, a Database Management System is a database management tool, a uniform technology that helps businesses optimise, manage, store, and retrieve data as required from your main databases. The user interface of the DBMS is a systematic approach that can handle large chunks of data workloads.
The foundational structure of a DBMS is based on three vital elements; data itself, database schema, database engine. The schema is responsible for a logical structure while the engine ensures the data can be accessed, locked, and modified by users.
Interestingly, you can also store your database information via apps. Analogically, assume a DBMS as a bridge between your main database and application programs. Additionally, database management software grants you the scalability and modification options to recover, comply, or simply monitor business operations.

The Usage of a Database Management System in the Industry
The usefulness of the DBMS is its centralised process that allows multiple users to access data despite different geographical locations. Furthermore, the DBMS can limit the data usage and functionality of each user. There are different types of database softwares.
The DBMS grants end-users the freedom and convenience to store logical or physical data. Consequently, users don't have to be concerned about the structural changes nor the physical location of data. Application Programming Interface (API), for instance, doesn't bother the developer to make manual changes. Instead, it automatically makes modifications in the database.
The Art of Choosing the Best Database Management Software
Whether you run a small or an established business, it would be wise to look for a DBMS with multiple database options. From sophistication to enhanced scalability, your choice should complement the nature of your business product or service.
Here are some of the best DBMS that can help your business with productivity and the realisation of its true potential:
Microsoft's SQL Server is one of the most effective DBMS in existence. The free tag of the tool certainly attracts a large user base. Its custom-built graphical integration of best database designs has saved users' valuable time for years. Similarly, the diagrams that you can make with the help of this tool can be easily added to a new or existing project library.
Object Explorer feature helps end-users to view the creation of the tables. Template Explorer, on the other hand, is a bundle of script objects that can be used to identify numerous names in the database system. In addition, the SQL Server creates specific containers that allow users to combine views and scripts of a linked object or group.
The open-source DBMS solution gets attention because of the invigorating indexing and configuration options. Postgre SQL is ideal if your daily business activities require you to import or export data.
As of now, Postgre SQL supports Python and JSON programming languages. Although it is a relational database solution, users are free to create NoSQL databases. Besides, the open-source community has created a wide array of plug-ins to boost the functionality of the software.
My SQL is a high-speed data processing and data productivity tool with comprehensive features. The tool is designed to increase the security and scalability of your databases. A reliably cost-effective tool offers technical support and counteracts potential risks. Furthermore, high-volume business sites can deploy business-oriented complex MySQL applications.
Amazon RDS (Relational Database Service) is one of the best DBMS tools. It has a dedicated secured connection, and it automatically backs up your data through an inbuilt feature. Furthermore, it can resize your entire database activities.
The latest version of the Oracle RDBMS tool encompasses larger databases, takes less space, is more secure, and quickly processes data. It is, in fact, one of the most effective object-relational DBMS tools.
You can run Oracle RDBMS on a PC or a high-powered supercomputer. The active designs, for instance, trigger a dedicated referential system within the software
RazorSQL is one of the most popularized database management and query tools. It allows users to check schemas, tables, unidentified keys, structure indexes, and columns. You can create, update, or delete entire SQL statements as per your business needs. The software has flexible import options to incorporate excel spreadsheets, extended files, and fixed-width data files.
As of now, RazorSQL supports more than twenty (20) programming languages. Concurrently, it can compare the results of table data and queries through multiple databases. In addition, the software doesn't require added manual configuration, making it easier to check a multitude of databases.
The open-source DBMS tool is a favourite of developers as one of the efficient DBMS tools to design, develop, and perform other database management activities. The best trait of SQL Developer is that it takes less time to execute multiple queries. Consequently, users generate queries in numerous formats like PDF, HTML, XML, or Excel.
Informix Dynamics Server is a commercial DBMS tool that is perfect for businesses that want parallel and multi-threaded processing of data. The scalability of the software makes it ideal, plus it has a great in-depth support option.
The open-source DBMS tool delivers high-level data processing speeds. Furthermore, it has an in-memory database portion that is capable of storing large chunks of data on a single disk. In fact, Altibase is one of the rare hybrid DBMS tools that provide large scale-out sharding options.
Programmers may be interested to know that the Redis is coded with ANSI C language, which means better speed across all operating systems. Besides, the DBMS tool provides multiple data types such as hashes, lists, and sets that can support high-performance queries. It also has a built-in memory data structure that can index bitmaps, hyperlogs, and streams.
The newest version of IBM DB2 runs queries faster than ever. Furthermore, the DBMS tool now supports most of the data science languages to handle simple or complex frameworks. Primarily, users are attracted to the software because of its easy installation and setup to store a large amount of data instantly.
Teradata is one of the original DBMS tools. It has an impeccable processing speed to import and export data. Apart from real-time processing, it can distribute large databases in the blink of an eye. The data analytics of the DBMS tool is known to render successful enterprise-level business operational activities.
FileMaker has great SQL connectivity and information sharing options. The best aspect of the FileMaker is custom made templates that can help users manage data reports, charts, and invoices. Consequently, the tool gives a professional and knowledgeable vibe to manage data.
As the title suggests, the Advanced Query Tool is mainly used by database administrators and developers to handle complex data management activities.
SQLite is designed to cater to small and medium-sized businesses (SMEs). Its light structure and layout design help users store and manage data quite easily. The SQL engine of the tool is highly reliable and self-contained. In fact, the DBMS program is available on several mobile applications.
This DBMS tool focuses on agile and critical development of your databases. You can form schema access patterns and build custom responses for each integrated application. And when users attain higher scalability options, it leads to continuous data delivery mechanism.
Robot 3T or formerly known as Robomongo is one of the best DBMS softwares that can handle a large quantity of workload. It has stable integrated features and is practically error-free. The tool, however, is mainly hailed because of the captivating visual drag-and-drop functionality to build queries.
Large corporations use Cloudera for higher data processing and optimal security reasons. The tool also has a great performance efficiency that can run independent analytical tools. Moreover, it has machine learning algorithms to understand and manage complex data structures.
The strength of CoScale lies in monitoring and optimizing large scale data projects. The key performance indicator window can be shared across multiple users. Web developers, engineers, digital marketers, and operation managers can divide the workload on CoScale.
The online cloud-based DBMS software helps users manage and monitor the performance of data via a user-friendly graphical dashboard. Server Density serves businesses that want to find out issues at an early stage.
It may be the last DBMS on the list, but Toad earned fame for quick installation and formating large options. Database analysts and administrators use the tool to align strategic data initiatives. Additionally, it can cut down data delivery lead time and reduce costs.

Conclusion
Whether you are a non-professional user or an experienced developer, your main focus of interest to choose from the DBMS mentioned above should be based on monitoring and performance generation.

Also, check the flexibility of the program to add end-users. A good method is to compare the integration of data queries and assess technical possibilities that can enhance your database scripting knowledge.

Ultimately, the role of the user should be the criterion to select your database management system software.
SwiftERM is a Microsoft Partner company, offering autonomous predictive personalisation software (PPS), which requires zero database management to personalise product content selection unique to each consumer .
Immediate ecommerce challenges to be faced
The ecommerce industry has grown exponentially, with total ecommerce sales expected to reach $1.065 trillion by 2023. As an ecommerce business owner, you have unique challenges, like unique rules and regulations to follow, and cybersecurity is high-up on the priority list to ensure that most sacred asset data, stored online, is protected. These challenges you must contend with and...
The ecommerce industry has grown exponentially, with total ecommerce sales expected to reach $1.065 trillion by 2023. As an ecommerce business owner, you have unique challenges, like unique rules and regulations to follow, and cybersecurity is high-up on the priority list to ensure that most sacred asset data, stored online, is protected.
These challenges you must contend with and know how to overcome. Several business leaders offer their opinions on the most prevalent challenges they all agree they face now.
The immediate ecommerce challenges for SMEs
Cybersecurity
Victor Congionti, chief information officer and co-founder of Proven Data, knows that small ecommerce sites need the proper cybersecurity practices and tools in place.
"Small businesses that focus their attention in the ecommerce space need policies and procedures to create a solid cybersecurity framework for the organisation," Congionti said. "In the case of a cyberattack, a small business cannot afford to have downtime in operations and sales, because every transaction is a marginal financial success that the business depends on."
Because a small business depends on that income, business owners need to ensure they have a proper cybersecurity framework to keep data safe and secure while helping employees feel empowered to implement policies and tech to combat cyberattacks. Measures such as tighter access control and data security software can shore up defenses against vulnerabilities and improve a small business's cybersecurity risks.
Businesses must have an incident response plan that establishes what to do in the event of a cyberattack.
In the case of a ransomware attack, the organisation might not be able to access files and data that is necessary for providing service to customers, such as inventory reports. Having a response plan can help the business reduce downtime in operations and continue providing service to clients through other means, such as phone sales.
Competition
Competition comes in many forms for small businesses, especially in the ecommerce space. You have to keep up with competitive pricing, products and services – all competing for your target customer.
As a small business, you can overcome price competition by having a very clear company value proposition that consumers can't get elsewhere. The ecommerce space has become so saturated that standing out from other ecommerce businesses is challenging, through no fault of your own.
"Distinguishing yourself from your competitors is crucial to standing out and attracting new customers for your business," said Harsha Reddy, co-founder of Small Biz Genius.

There are many ways this can be accomplished if you know how, starting with making sure your website looks professional and is optimised correctly to suit today's Google algorithm. Also, by providing a unique product or service, you can focus on a smaller demographic, making it easier for you to increase your domain authority.

For further information take a look at our advanced guide to customer acquisition.
Order fulfilment
Not everything has to fall on the small business owner's back. You could be inundated with more orders than you are prepared to handle on your own. In this case, outsourcing order fulfilment and ecommerce shipping can ease your workload and streamline the customer experience.
Customer experience
As a primarily ecommerce business or a business that conducts some selling online, you might find it a challenge to offer your customers the same experience level they would get in a brick-and-mortar store.
"One of the most overlooked areas of the customer experience in moving to ecommerce is pricing and customer personalisation," said George Dunham, CEO of epaCUBE. "Customer experience is especially important when launching an ecommerce initiative, because customers expect to be treated as well or better online as they are face to face." There perception is that you have had the time and opportunity to go away and carefully prepared what you want to offer them as an individual.
Dunham said that companies struggle to meet these new demands because doing so requires precise handling of pricing, analytics and customer personalisation. Successful experiences in the ecommerce space require the same, if not greater, clarity in product offerings, pricing, loyalty programs and more, as is required in a face-to-face buying process.
"In a world where everything is happening online, your customers expect more, and they also know more about your products, prices and competition," Dunham said. "They expect to be treated the same way online as offline, so if they can get a certain price in person but can't get that price online, they get frustrated and purchase somewhere else."
Quality website traffic and visitor conversion
Building, designing, and running an ecommerce website is complex, but generating quality conversions is even more challenging, according to Lisa Chu, owner of Black N Bianco.
"To turn your traffic into converting customers, you must have a website that is modern, clean, user-friendly, trustworthy and virus-free," Chu said. "Every industry is different, so understanding your audience is crucial to designing a website that resonates with your audience."
After personalisation of communication, ensuring effective CRO for your website is one of the primary essential tasks. Maximising the content on your website through SEO is the next step.
Phillip McCluskey, commercial director of One Erth, said that average conversion rates globally are less than 3%, making driving relevant traffic to your site a sticking point.
"Extensive short-tail keyword research should be conducted to ensure you are optimising your pages for relevant search terms," he said. "It is likely that the competition for these terms when they are just starting out will not realise immediate web traffic; therefore, long-tail keyword research should be conducted to understand the relevant 'what,' 'how,' 'who' and 'where' within your niche."
Shirley Tan, developer partnership manager at Yahoo Small Business, said many businesses used to take the "if I build my online store, customers will somehow discover it" approach. "Today, that is no longer the case. When there were fewer ecommerce stores, they may have been able to rely on a stumble-upon effect, but now the internet is too crowded and noisy. Therefore, engaging the customer and getting their attention has to be more meaningful and impactful."
To combat the noisy ecommerce space, Tan said ecommerce SMBs need to understand who they are targeting to create a customer base who will be their constant source of revenue and loyal shoppers.

This feature on customer retention is essential reading.
Return and refund policies
A good return and refund policy could be the difference between success and failure. That sounds extreme, but it's true.
"If you want your brand to stand tall, then customer satisfaction should be the first priority, and whatever you're selling should be the same as what's advertised," said Syed Ali Hasan, digital marketing manager at Film Jackets. See feature the state of brand loyalty.
In an ideal world, yes, there would never be an issue with the product you're selling, but that's not always the case. Sometimes the purchaser has buyer's remorse, or it wasn't what they thought it would be.
"Be transparent and create a smooth, fast and easy return policy," Hasan said. "Make it easy to understand and not too strict, so the customer won't have to go through hassles to return an item."
Rubright said that if you don't have a good return and refund policy, people are less likely to trust you're selling something worth the money. "When a site says 'no returns or refunds,' it makes the customer much more likely to think it's a risky purchase or, worse, a scam, since online businesses can be less known."
Finding the right market
"The first step of any business is to find product-market fit, and ecommerce is no different" Rubright said. "Product-market fit is the degree to which a product satisfies market demand. The easiest way to find that fit quickly is to build a product that solves a problem you have."
However, finding the right market for your product isn't the easiest task. Rubright offered some insights on how to make it more straightforward.
"If you haven't figured out your ideal customer yet, I recommend making some assumptions as to what your target market is and running Facebook ads to this audience. When you finally do make a sale, try and understand everything you can about who bought your product, and find more of those people by any means necessary. Once you have product-market fit figured out, then you can figure out the best way to reach your ideal customers."

Important supporting article for this feature is available the value of keeping the right customers.
Making and increasing sales
You are already an ecommerce retailer, the problems infant of your are challenges to overcome, not be daunting. Making a sales plan and selling your products and services seems like a no-brainer; however, it's not always that straightforward.
"To increase sales, ecommerce SMBs need to have the right product at the right price and ensure they are top of mind when the customer is ready to make a purchase," Tan said. "This traffic can be hard to get; to drive sales, it's important a brand endears themselves to their customers."
Aside from customers already having you in mind when they need something and feeling positive about your product, your website plays a big part in how many sales you'll make.
Treat each customer as an individual, and by this we mean learning what each individual customer (not a segment) needs, wants and desires. To achieve this high-tech sophistication of your marketing, solutions such as PPS are available (predictive personalisation software).
PPS will do it all autonomously for you. Autonomously – no human involvement whatsoever. It cannot allow any human involvement to maintain it as pure, therefore perpetually accurate. Not only does that maximise the return, but it means it comes without the biggest overhead in marketing – staff.

Simply install it and walk away, you never need to touch it, and yet be reassured it has your back, and more importantly, it offers each and every consumer exactly what and when they want to see.

Personalisation is identified by every leading research authority to now deliver the highest ROI of all marketing disciplines, so 20x is the commonly quoted distinction. Ignore this at your peril, as your competitors won't.
If you need to secure higher average order value, to perpetuate ever greater customer lifetime value, and kill your rate of return from unwanted goods, personalisation implementation is sacrosanct.
Borderless ecommerce
Because of the increase in ecommerce websites available worldwide, shopping has become borderless. Consumers can easily purchase from companies outside of their own countries. As a result, e-commerce businesses must accommodate customers of all backgrounds. See articles does your ecommerce site need to go international.
Supporting a diverse customer base means providing information in various languages. According to CSA Research, 76% of online shoppers prefer to purchase products with information in their own language, 92% would prefer shopping in their local currency, and 33% might abandon the cart if pricing is only in U.S. dollars.
To maximise your chances of having a successful ecommerce business, use thought and consideration when accommodating other languages and cultures.
Augmented reality
The augmented reality (AR) market is expected to reach $198 billion by 2025. AR allows e-commerce businesses to show consumers what a product would look like in their space. For instance, if someone is purchasing a couch for their living room, AR can help them visualise the sofa in that very room.
This visualisation tool often solidifies their decision to make a purchase, as consumers can have more confidence it will look good in their home. It also shows an investment by you in your customers, always appreciated to make their life easier.
If the AR model would work with your products, perhaps you should incorporate this technology with your e-commerce store.
IoT commerce
Internet of Things (IoT) commerce has been a popular way for consumers to make digital purchases through IoT devices, such as smart speakers, cars, appliances and other smart devices. In the current API economy, business owners can accelerate product delivery to new channels. To accommodate this new way of shopping, ecommerce businesses must focus on their PIM, so they are ready to respond to API requests and sell in unconventional channels.
Luxury in a world of economic recession
You would think that luxury marketing would face an uncertain future, with record inflation, supply chain disruptions, headwinds from China's authoritarianism and the war in Ukraine sending several global markets spinning towards recession. Will luxury be immune? Inflation, Covid lockdowns, supply chain disruptions: markets around the world are teetering on the brink of recession, and...
You would think that luxury marketing would face an uncertain future, with record inflation, supply chain disruptions, headwinds from China's authoritarianism and the war in Ukraine sending several global markets spinning towards recession. Will luxury be immune?
Inflation, Covid lockdowns, supply chain disruptions: markets around the world are teetering on the brink of recession, and while luxury is relatively immune to short-term slowdowns, experts warn that the next five years will be more challenging than the last, demanding greater agility from brands.
The outlook for the global economy has "darkened significantly" in recent months, the head of the International Monetary Fund (IMF|) warned in July, and the World Bank forecasts that most countries are headed for a recession.

Earlier this month, the Bank of England warned the UK will fall into recession this year, and some argue that the US is already there after reporting a second consecutive quarter of economic contraction in July (it isn't official unless recession is declared by US non-profit the National Bureau of Economic Research).

The sharp economic downturn in many countries is driven by ongoing supply chain disruptions, which have triggered increases in freight and commodity prices, compounded by Russia's war on Ukraine, which has put pressure on energy supplies.
Customers around the world are feeling the effects: the Ipsos Global Consumer Confidence Index sat at 46.9 in July — its lowest point since May 2021. The six largest advanced economies — the US, Japan, Germany, Great Britain, France and Italy — have reached their lowest consumer confidence levels in more than a year, the index shows.

China was the outlier, improving by two points on June. Almost a quarter (23 per cent) of consumers across 12 countries surveyed by audience insight company Global Web Index (GWI) say they've been more price conscious about luxury goods in the last three months.
Luxury brands remain relatively bullish, but outlooks are less certain. In their first-half earnings, LVMH, Kering, Hermès and Prada pointed to a rebound in parts of China in June and July following the Covid lockdowns earlier this year and a boost from US tourists in Europe thanks to the strength of the dollar.

Still, Estée Lauder Companies last week warned that 2023 would be "volatile", due to record inflation, supply chain disruptions, the strengthening US dollar, risk of a slowdown in many global markets and headwinds from the ongoing Covid shutdowns in China (the Chinese province of Hainan entered lockdown earlier this month).

Tapestry, parent of Coach, Kate Spade and Stuart Weitzman, said China will continue to be challenging in the first quarter of 2023, and the company's full-year forecast fell below analyst expectations.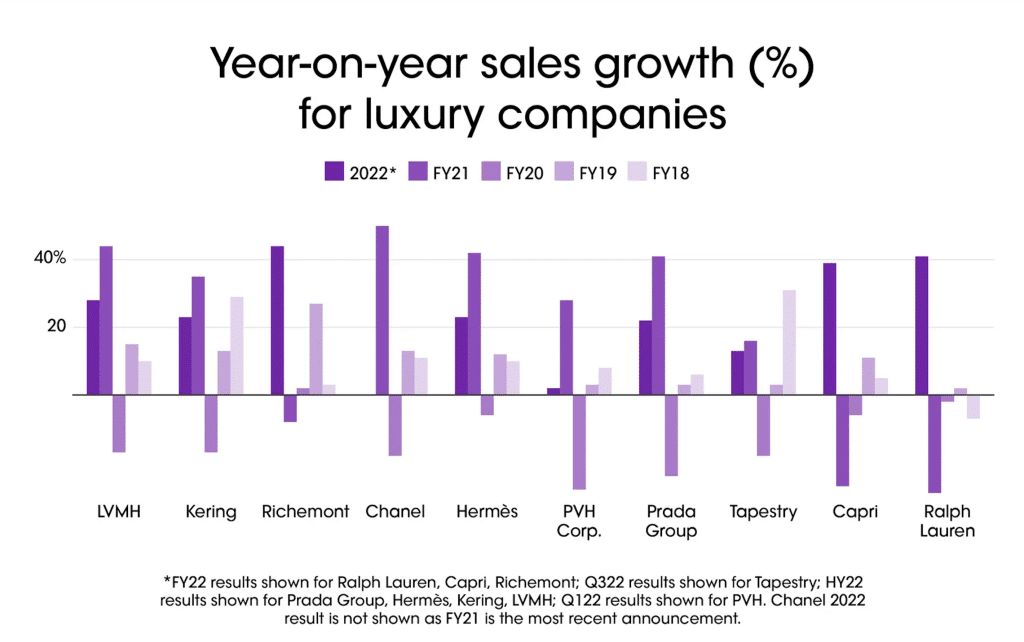 "The luxury sector has actually remained very strong throughout the last quite tumultuous period. This proves the relative resilience of the luxury sector and the consumer," says Michael Kliger, CEO of luxury e-tailer Mytheresa.

However, Kliger adds that a deep economic downturn or further geopolitical crises may yet have a negative effect. "It's uncertain how the war in Ukraine might still unfold, and whether Covid will resurge in autumn. We are watching closely the impact of inflation, currency fluctuations, energy prices and stock market performance."
The twin engines of growth
"It is challenging to draw conclusions about the likelihood or timeline of a global recession", says Anita Balchandani, senior partner at consultancy McKinsey and head of its fashion and luxury practice for EMEA. But she adds: "In the UK, US and many parts of the world, what we do clearly have is inflation, which is climbing. And, you're also starting to see a worsening picture on consumer confidence."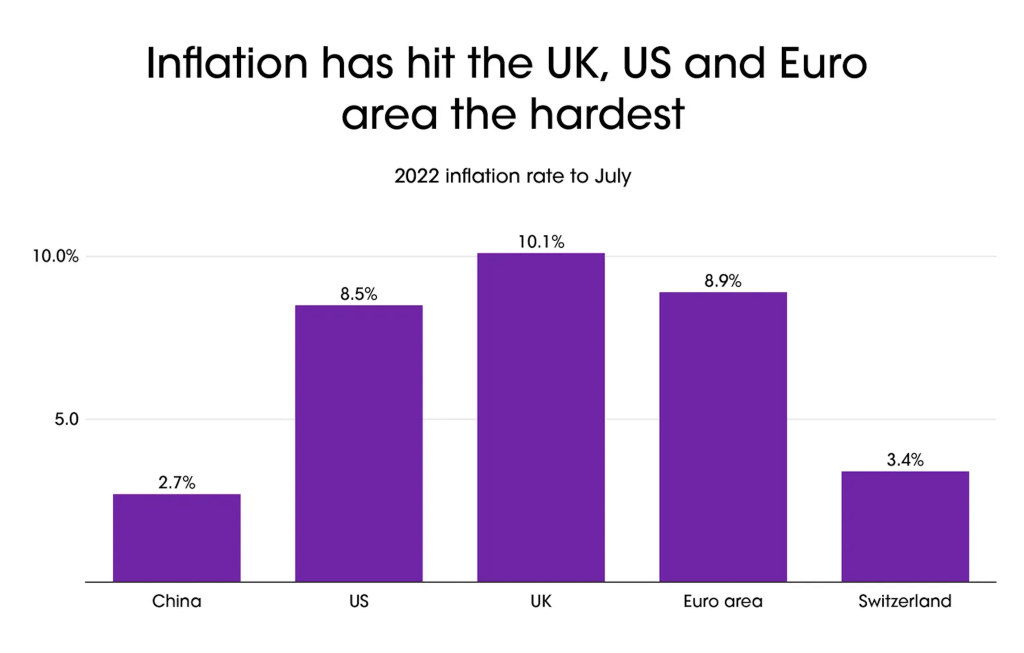 Generally, consumer confidence levels remain higher than in 2020, according to GWI, when the pandemic first began to spread globally — but that's not an indication of normalcy. "It's more a case that 2020 was completely uncharted territory, so people weren't sure what to expect or how severe it would be. Nothing compares with the ground zero of Covid-19 in 2020 from a consumer concern point of view," says GWI's VP of trends Chase Buckle.
The US and China represent more than 50 per cent of the global value of the personal luxury goods market, so instability in either of these two markets is a cause for concern, says Shaan Raithatha, senior economist at asset manager for investment advisory firm Vanguard Europe. "The extent to which luxury goods will be impacted by a recession will largely depend on the relative economic conditions of these two regions compared to the rest of the world."
Balchandani agrees: "They are really the driving forces in this industry, the twin engines behind most of the growth. And, both of those regions have a higher degree of uncertainty around them now than they did a few years ago."
In the US, the high rate of inflation sent consumer sentiment plummeting to a record low in June, according to data from the University of Michigan. July saw a dip in inflation rates from 9.1 per cent to 8.5 per cent, raising hope that price rises in the country have finally peaked.

Meanwhile, US tourists are spending big on luxury goods in Europe thanks to the strength of the dollar ($1 to €1.01 at the time of writing). McKinsey also points out that savings are high, and there are "glimmers of hope" amid the dark economic mood.
It was a similar story in China over the summer, where the country's zero-Covid policy continued to weaken spending: consumer confidence fell to a historic low in June, figures from the National Bureau of Statistics show. And, while sentiment in China improved month-on-month in July per Ipsos's index, this was before the recent outbreaks hit Hainan.
A summer bubble for luxury?
Giulio Renzi Ricci, head of asset allocation for Vanguard Europe, says ultra-high-net-worth individuals are typically less affected by economic recession if the downturn is predominantly confined to the mid-level of the economy and the labour market. However, if a recession is also characterised by prolonged inflation and, therefore, a sharp decline in the financial value of assets, even luxury would be "severely affected", Ricci warns.

Never before has it been so essential that individual shoppers, especially in the luxury market, are treated as individuals, and that every communication is personalised.
How to measure consumer personalisation
As the value of personalisation is now universally accepted as offering the greatest returns in marketing, so marketers are no longer asking whether they should personalise of not, it's a given, but they do need to be able to measure consumer personalisation. According to Statista, 33% of marketers now spend more than half their online marketing...
As the value of personalisation is now universally accepted as offering the greatest returns in marketing, so marketers are no longer asking whether they should personalise of not, it's a given, but they do need to be able to measure consumer personalisation. According to Statista, 33% of marketers now spend more than half their online marketing budgets on personalisation. If you don't, you are not maximising your budget efficiently.

Predictive personalising email software (PPS) has become the leading tactic used by marketers to improve their campaign performance. Information technology leaders Accenture, reveals that 91% of consumers are more likely to shop with brands that provide relevant offers and recommendations.
But how can marketers measure the ROI of personalisation? How can you prove that your efforts are working and worth investing in?
This article is about the ROI of personalisation and what marketers can do to measure effort and fine-tune personalisation strategies, specially in the wake of privacy concerns. We'll also cover zero-party data, the near-death of the third-party cookie, core metrics and how to better quantify the impact of your marketing campaigns.
Measuring the impact of personalisation
PPS can open up new ways to boost revenue and conversions. It can also help you acquire and retain customers and stretch your marketing spend further. But evaluating the ROI of personalisation isn't easy, especially with siloed data and tools.
Siloes stand in the way of a fluid customer experience. Fragmented tools hinder cross-communication and leave marketers with an incomplete picture of their customers, resulting in broken customer experiences and irrelevant messaging. Removing these silos and the friction between systems enables you to finally see the compound effect of personalisation on your bottom line.
The compound effect of personalisation on revenue

Conversion Rate and Average Order Value (AOV) are two key metrics that directly impact revenue, and which can be easily increased through personalisation. In the above example, which is based on a mid-size ecommerce business, row one represents the company's baseline, pre-personalisation. In the second row, we see that boosting the conversion rate by 10% through personalisation results in a 10% uplift in both revenue and Return on Ad Spend (ROAS).
If the business then also boosted its Average Order Value (AOV) by 15%, again through personalisation, the compound effect of these changes results in a 26.5% uplift in both revenue and ROAS. Although Return on Ad Spend (ROAS) is not directly impacted by the changes in the conversion rate and AOV, by improving the funnel a business will automatically make its ad spend more efficient.
By this we don't mean identifying the right audience segments, segmentation is not personalisation. We mean serving each individual consumer personalised product selection pertinent to their individual criteria for selection and purchase. Anything less than PPS software can't do this.
You can avoid marketing waste, and no longer throw money away by serving up product offering to consumers with little to no chance of converting. No wonder many retailers have become used to enormous rate of returns (RoR). This will, of course, also have a positive impact on customer acquisition costs (CAC).
It's important to note that these figures can vary from vertical to vertical, but it is clear to see that implementing a personalisation program has a huge impact on the key metrics and KPIs.
leading global research company McKinsey offers that personalisation can deliver 20x times the ROI on marketing spend or more. While marketers have been employing different methods of personalisation for the last two decades, meaningful personalisation – which involves identifying unique traits of each individual customer, wasn't possible until recently. The stark reality is that the tools simply didn't exist to deliver truly relevant content and offers to customers on an individual basis.
Average order value and conversion rate directly impact revenue. Using predictive personalisation software, you can boost your impact in these two areas. But marketers can track other metrics to maximize the ROI of their personalisation efforts.
Key metrics to track to gauge your personalisation efforts
Incremental Conversions: net conversions that come from personalisation which are over and above the control group's conversion value. They are expressed in numerical terms over the benchmark number.

Incremental Revenue: the net revenue generated from personalisation over the control group, usually expressed in monetary terms, cumulative or absolute, over the benchmark value.

Conversion Rate Uplift: This is the change (increase or decrease) in the personalised version's conversion rate over the control group, and it usually displays as a percentage. By tracking conversion rate uplift, marketers know how effectively their personalisation strategy contributes to revenue.

Average Order Value Uplift: This metric provides the net increase in the average order value of a test group against the control group. It is expressed either as a percentage or in monetary value. In ecommerce, it quantifies the personalisation-led extra order values from the same customers.

Significance: A campaign or personalisation is said to have high significance (or statistical significance) if a particular personalisation has shown visible effectiveness over its control group. This effectiveness usually measures a positive change in impressions or increased uplifts like conversions or average order value.

Email ROI: Despite the recent changes, email remains one of the most popular communication channels. Along with engagement metrics like open rates, conversion rates, CTR, and ROI-focused metrics, such as click-through-revenue help to attribute revenue generated by email personalisation.

Sales /revenue from clicks: This metric provides your personalisation campaigns' total sales or revenue figures and represents gross sales or revenue figures. Usually, these metrics track sales or revenues that are the outcome of specific personalisation efforts.

Web push ROI: This is one of the best-performing channels for engaging your opt-in subscribers. Successful web push strategies revolve around one-to-one individualised messaging based on a customer's needs and historical or predictive behaviour. Combined tracking of opt-in and engagement metrics help measure the ROI of web push personalisation.

Mobile app ROI metrics: Mobile apps are an essential part of an omnichannel marketing strategy. While you spend time and money building your app and getting downloads, it's essential to understand and measure your mobile app's performance to determine ROI.

One of the core metrics is new user acquisition and recurring engagement on the app. By tracking the acquisition, engagement, and retention metrics, you can determine the success and ROI of your mobile app campaigns.
Marketers may also want to track micro-conversion goals, such as page views, add to cart ratio, sales ratio, and other custom-defined metrics.
To succeed it is essential that you integrate and unify your marketing channels, by adopting PPS software sooner rather than later you can deliver relevant and personalised offers and communications immediately.

SwiftERM offer PPS software as a free trial, to establish viability. SwiftERM is a Microsoft partner company..
Automatic email marketing – the future
The shocking truth about automatic email marketing, is that the future is already here! Another frenetic start to your week, sees you with a million-and-one things needing to be done, and there is only you to do it. Sound familiar? So you could really do to off-load principal time consuming necessities like your email marketing....
The shocking truth about automatic email marketing, is that the future is already here! Another frenetic start to your week, sees you with a million-and-one things needing to be done, and there is only you to do it. Sound familiar?

So you could really do to off-load principal time consuming necessities like your email marketing. But when you Google "automatic email" marketing", your get the current top search return, courtesy of SendGrid:

"Automated email, also referred to as triggered email or behaviour-driven email, is any message automatically sent from your email service provider (ESP) in direct response to an individual user's specific actions made (or not made) on your website or web app."

Not it isn't!

It used to be, now you can install software that does it all for you, and we mean all! That's absolutely everything, all the time, perpetually, ad infinitum. You would never need to touch it again, ever. No set-up, nothing.

We appreciate that it is a given that business has taught you to be extremely cautious, sceptical even, about nefarious claims, so let us explain what it is, how it works and what it delivers.

What is automatic email marketing software?

The automatic email software to which we refer is called predictive personalisation software (PPS). It uses a combination of AI and machine learning to understand, learn and ultimately appreciate the needs, wants and desires of every individual consumer you have on your database.

Your platform currently captures all the buying history for each individual, but not impressions, neither number of times they return to products, and certainly not how long they spend looking at them. PPS however, does.

It might not be immediately appreciated but this opens an massive opportunity, to use that information to predict what that individual is most likely to buy next.

Unlike the quote above, you don't have to wait for them to trigger anything, like leave an item in their shopping basket, of click on an offer. Shoppers very often do those things even though they didn't want them in the first place, boredom, or frustration of not finding what they wanted, they even make mistakes.

But sadly you rush off to celebrate another sale, only to find, a week later, it gets delivered back to you as yet another return.

We feel your pain. However the PPS solution watches each individuals preferences, taste, collections, style, habits etc, and works out what products they are most likely to buy next. It then selects exactly those aligned products, to fulfil that persons email content.

And you should note carefully at this point that you have done absolutely nothing. It is totally autonomous email software. It arranges each individual consumer's top 17 products into an email, and sends it to them a couple of times each month.

Each email is unique and personal to the consumer receiving it.

What is the effect of this, for you and your customers?

Customers are not stupid, they know what they want from email marketing, personalisation!

Black Friday proves that that items increased a week before to make the saving look better is spotted. The long term effect of which is the disappearance of loyalty and increase in churn rates. PPS however, already knows what they're going to buy, and only delivers those products with the highest buying propensity for that individual at exactly the right time.

It uses the effect of previous emails, and lack of anticipated responses is included to nurture the data analytics, on a personal level, and perpetually increases the learning curve for that individual.
You don't treat them like cattle hoarding them into corrals, let's call that "segments'. No you offer personalisation; you treat each one as if you are their favourite sales assistant, showing them exactly what they want, which might be across, brand, price, colour, and what it's made from.

There are also selections which are not associated, or simply product related. Like someone who always buy a belt if they buy shoes, or those who always buy Bordeaux wine on the last Thursday of the month. These are catered for too.

If the algorithm dictates all the elements pertinent to that individual, and utilises it, the effect to you is bound to be higher than the guess-work of you lumping a bunch of people together, i.e. "all females who bought a cashmere top in the last 6 months'. This translates into a far greater ROI.
The fact is that each individual's personal loyalty level grows, average shopping basket size increases – (AOV), the rate of return (RoR) drops away, and ultimately the customer lifetime value (CLV) goes through the roof.
Suddenly you are their blue-eyed provider of all their needs – not literally but you get the idea. Your offering to each individual is pertinent, perpetually fresh, on target and has the calculated highest level of achieving the desired effect – selling them what they want when they want it. And remember, you have had to do nothing!
Predictive personalisation software is verified by the big four research institutions: McKinsey, Bain, Forrester and Statista, to be the highest marketing phenomena for ROI currently. Delivering twenty times the return of standard email marketing, omni-channel marketing and influencer marketing combined.
So as well as many independent retailers, you have to ask yourself why so many of the top marketers are getting on board?
PPS works both as a stand-alone, and to run alongside existing email service provider software (ESPs). Meaning they can still send out offers and incentive promotional material, we all need that, and yet ensure their is a catch-all for all the low-hanging fruit that obvious keeps business lucrative – PPS.
SwiftERM are delighted to offer you PPS on a free trial – for a month, to establish viability. SwiftERM is a Microsoft partner company.